15-Year-Old Izzi Gomez, 25-Year-Old Sean Poynter Showcase Youth Strength for Team USA
ATTENTION MEDIA:
For daily photos, video highlights and video news releases, click here – http://isawsuppc.com/media/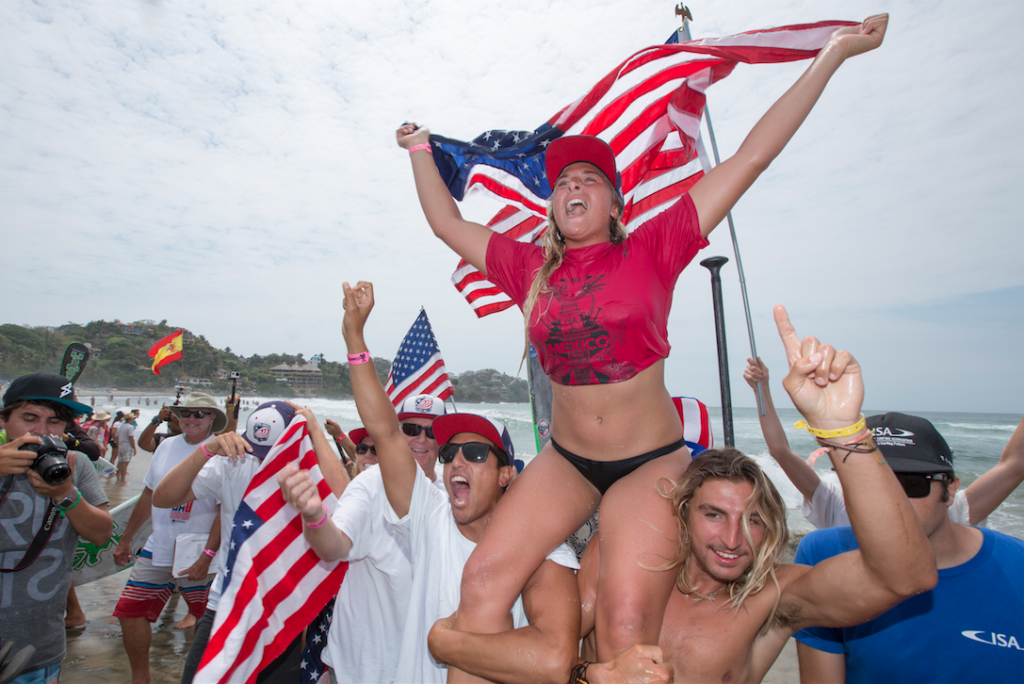 The right-hand break of Sayulita, Riviera Nayarit, Mexico offered consistent surf for the final day of SUP Surfing as part of the 2015 ISA World StandUp Paddle and Paddleboard Championship presented by Hotel Kupuri.
As the women's Repechage Rounds came to a close, the Final was set and included athletes from four different Nations. Joining the ISA newcomer, Izzi Gomez of Team USA and, 2013 Gold Medalist, Nicole Pacelli of Team Brazil were Spain's Iballa Ruano and France's Caroline Angibaud.
The experienced Pacelli looked incredibly strong coming into the Final Round, but it was Gomez that was the favorite regardless of this being her first-ever ISA World Championship.
Gomez wasted no time, and immediately earned wave scores of 7.27 and 5.93 for a total of 13.20. With more than 15 minutes left to go, the American had breathing room and reason to relax. For the rest of the heat the field was chasing her score, but in the end she would not be caught. Gomez won her first-ever ISA Gold Medal and valuable points for Team USA.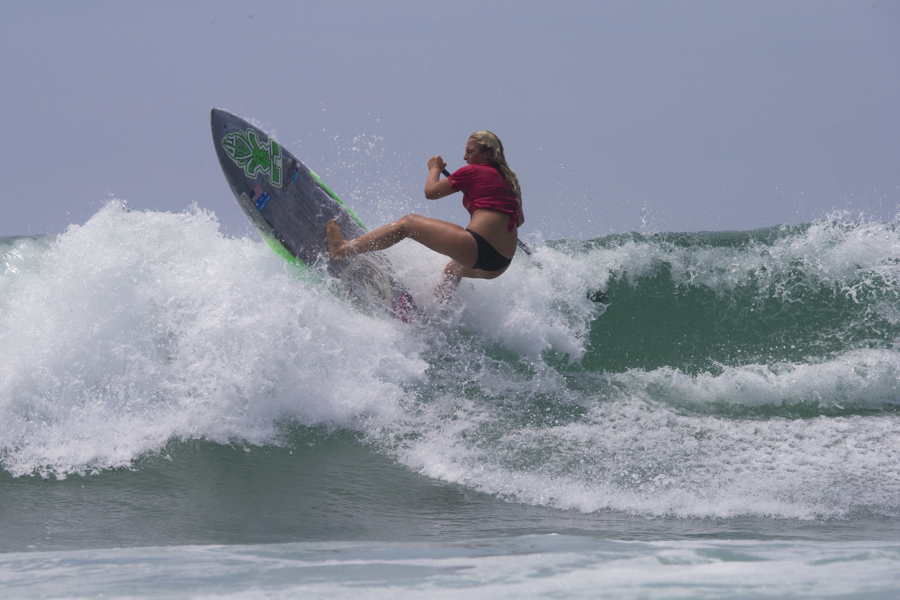 "I honestly cannot even believe it right now. I had a lot of nerves this week and was even sick, but with the help of my team I was able to pull through," said the humble 15-year-old Gomez. "I couldn't have done it without them. Just knowing that I was here competing for the USA, it gave me more drive and desire to win so I could have the best result for the team."
On the Men's side, local SUP surfer Felipe Hernandez of Team Mexico put on a show for the crowd during every heat throughout the day. During the last Repechage Round, with less than a minute to go, Hernandez nailed back-to-back aerials in a single wave. The crowd erupted into cheers as he solidified his place in the final.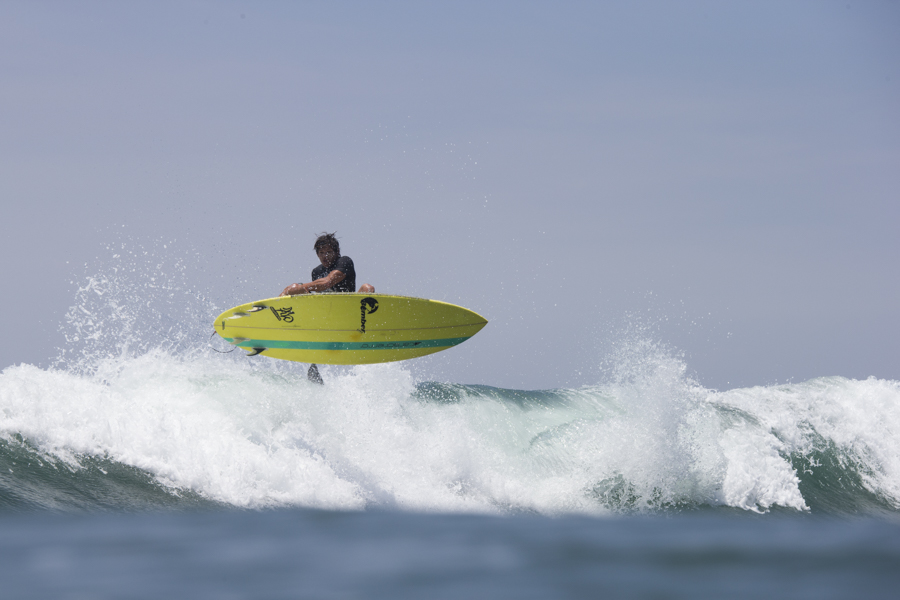 In addition to Hernandez, the final was set with American Sean Poynter, the Tahitian Poenaiki Raioha and Frenchman Antoine Delpero.
Poynter opened the Final Round with two waves earning an 8.50 and 7.33, which put his competition into a combination situation. Being in a combination situation means that no single wave score would be enough to take the lead.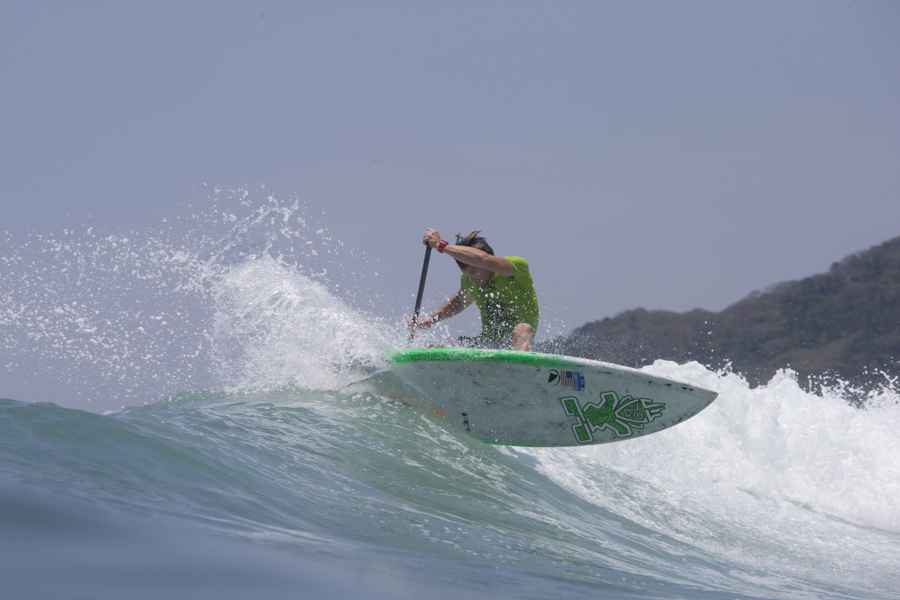 It was not until the final minutes that a single score would drop high enough to have any affect on the situation. Poynter had won, and became the first two-time, male ISA SUP Surfing Gold Medalist.
"This smile says it all. I'm at a loss of words," said an exhilarated Poynter. "I did the same thing as last year, dropping into the Repechage and doing five heats on the Final Day. My trainers had me fit and ready and I was able to withstand the amount of time and finish strong. I'm just so excited, so happy and thankful to the ISA, the Mexican Surfing Federation and the support of my team. It's been such an awesome event."
The beach had exploded with cheers. From chants of U-S-A, to the traditional Mexican chants, the spirit on the beach was that of true international comradery.
"Today's ISA SUP Surfing World Championship was an event that will be remembered for years to come. The world-class level of competition made for a gripping final, keeping everyone excited until the very end," remarked ISA President Fernando Aguerre. "We knew what the best days for waves were going to be, so we planned the surf competition accordingly."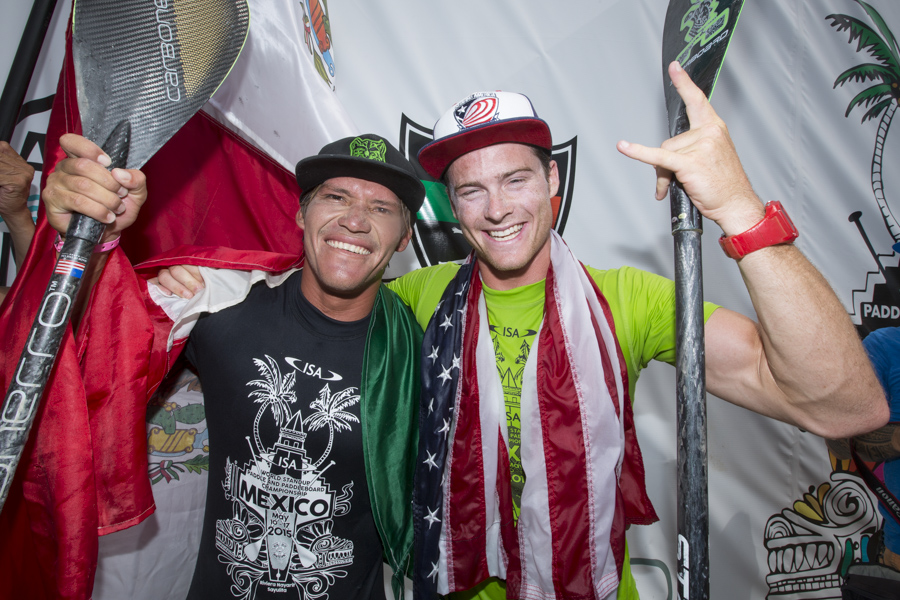 "What a final! Congratulations to Izzi Gomez and Sean Poynter from Team USA on winning the Gold Medals and making your country proud. That is what an ISA World Championship is all about — honoring the sport, honoring your country," said Aguerre.
For the full results click here- http://isawsuppc.com/results/
Men's SUP Surfing Results:
Gold Medal- Sean Poynter (USA)
Siliver Medal- Poenaiki Raioha (TAH)
Bronze Medal- Felipe Hernandez (MEX)
Copper Medal- Antoine Delpero (FRA)
Women's SUP Surfing Results:
Gold Medal- Izzi Gomez (USA)
Silver Medal- Nicole Pacelli (BRA)
Bronze Medal- Iballa Ruano (SPA)
Copper Medal- Caroline Angibaud (FRA)
Tomorrow's live webcast will begin with the Morning Show at 8:10am local time hosted by Beau Hodge, and will feature the newest ISA Gold Medalists Gomez and Poynter.
Saturday, 8:10am Mexico City, Mexico
Saturday, 6:10am Los Angeles, USA
Saturday, 3:10pm Paris, France
Saturday, 11:10pm Sydney, Australia
Tune into the live webcast here – http://isawsuppc.com/live/