SUP and Paddleboard Women Earn First Gold Medals, Claim Valuable Points for 2015 ISA World StandUp Paddle and Paddleboard Championship Presented by Hotel Kupuri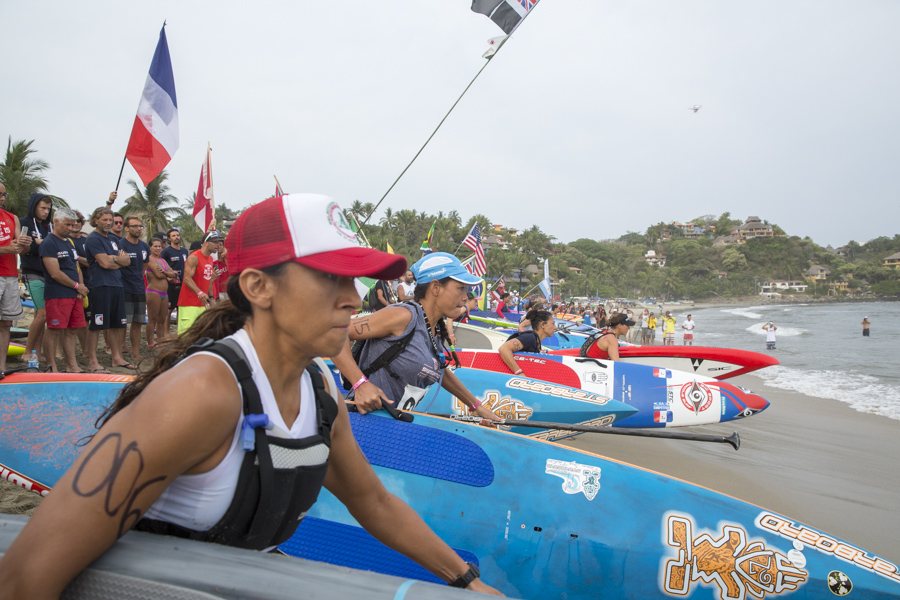 Following four laps around the 20KM course along the coastline of Sayulita, Riviera Nayarit, Mexico, the first medals and points were awarded at the 2015 ISA World StandUp Paddle and Paddleboard Championship Presented by Hotel Kupuri.
Team U.S.A.'s Candice Appleby captured her first International Surfing Association (ISA) Gold Medal. Appleby also earned valuable points for the overall team ranking with the win in the Women's StandUp Paddle (SUP) Long Distance Race. Appleby's time was 1:52:54 to finish.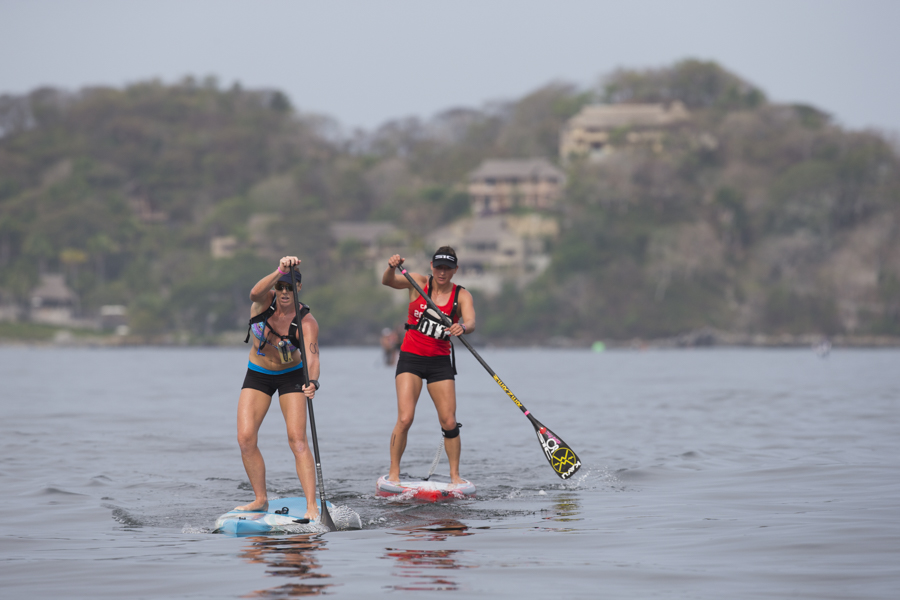 "I always try to do my best and win, but it feels really good to be doing it for more than just myself. I got my team, my country, God, my family," said the elated Appleby. "It feels very good to have my team screaming on the beach rooting for me."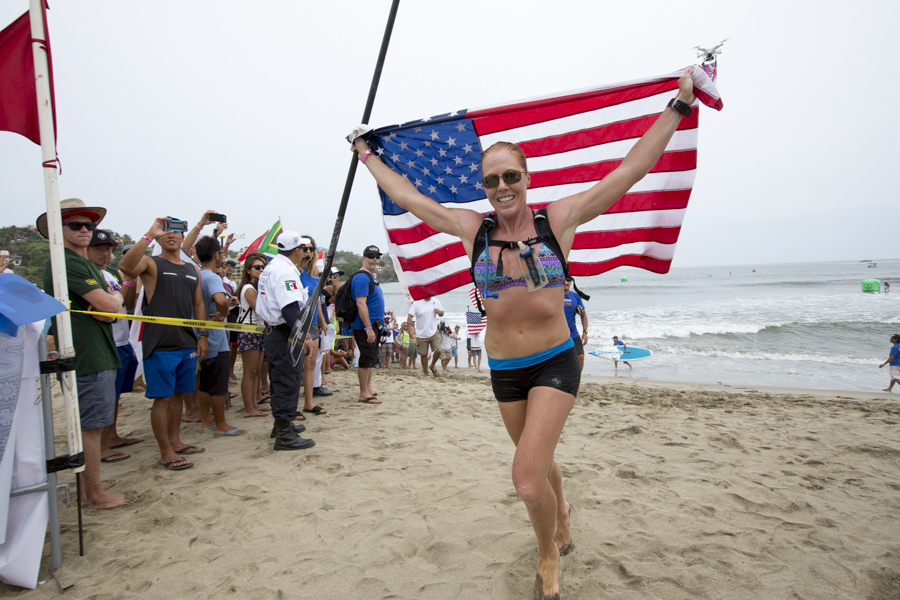 On the Paddleboard side, Australian Jordan Mercer earned her fourth consecutive Gold Medal but not without a dramatic finish.
Coming into the final two buoys of the course, Mercer was head-to-head with Anna Notten from Team South Africa. However, Notten, caught up in the moment, paddled straight toward beach forgetting to complete the final two buoy turns giving Mercer the 4-peat. Mercer's final time was 2:07:37, and Notten finished at 2:08:29.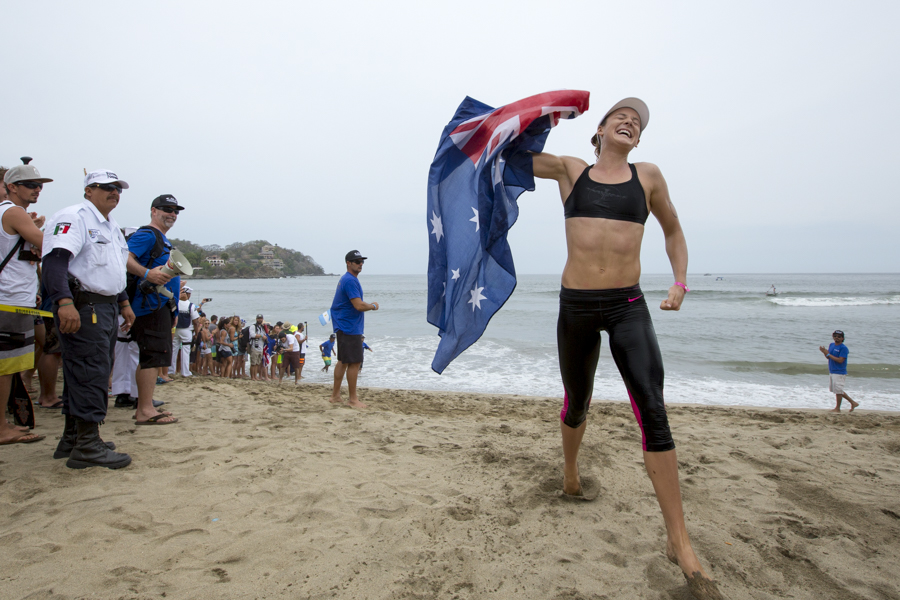 "I know now having crossed the line first and getting that fourth Gold at the ISA marathon race, the pain is all worth it," said Mercer, the most decorated ISA athlete ever. "You are getting pushed to your absolute limits. Each year the girls are getting stronger and the countries are so passionate about being here, leading their nations. I am honored to be a part of it."
Mercer resumed, "Out there racing, every stroke counts. Anything can happen while you are out there… I want to give huge thanks to Team Australia for having my back and helping me prepare and get ready for this race."
The anticipated rivalry between Team Australia and Team U.S.A. has begun. Carter Graves (U.S.A.) and Terrene Black (AUS) each finished third in their respective race. The day ended with Teams Australia and U.S.A. tied in points at 14,030.
Furthermore, the story of Hawaii as powerful contenders in the ISA World Championship was initiated. Leane Darling finished with a time of 2:10:00, earning her the first Hawaiian ISA medal in this competition for her team, a Copper.
"Amazing! Today we saw the best SUP and Paddleboard women in the world take to the water," said ISA President Fernando Aguerre. "The result, the greatest level of competition this community has ever seen."
"Today was not only about the competition in the water," Aguerre continued. "The energy on the beach was that of a true World Championship. Each National Team waved their flags and cheered in support of their fellow athletes and their competitors. This sport is about more than just the contest, it is about the friendship and camaraderie."
This sentiment was seen as the final competitor, Argentina's Florencia Baraboglia, reached the beach, more than 30 minutes later than the competitor before her, to a man-made tunnel composed of international hands, flags and cheers of praise. This completely exemplified what the ISA is truly about: unifying Nations through the sport of Surfing, SUP, and Paddleboard Racing.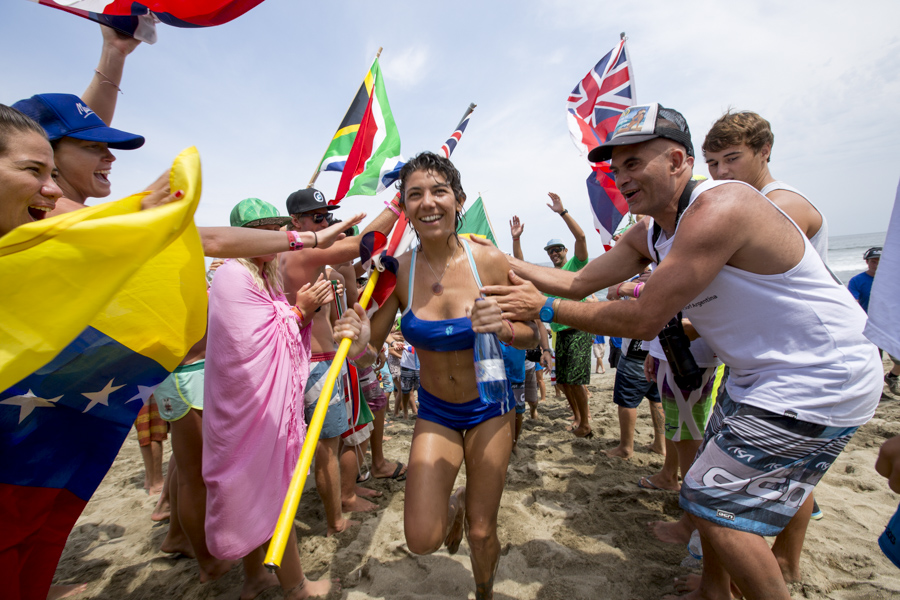 Tomorrow the competition continues with the Men's SUP and Paddleboard Long Distance Races. Returning to defend the Gold Medal is France's Titouan Puyo in SUP facing the likes U.S.A.'s highly touted Danny Ching, Hawaii's Conner Baxter, Tahiti's Georges Cronsteadt and Australia's Beau O'Brian.
In Paddleboard, look for Australia's defending Gold Medalist Rhys Burrows fending off the likes of U.S.A.'s Jack Bark as well as the 2014 Silver Medalist Sam Shergold from New Zealand.
Tune in to the live webcast for the third day of the 2015 ISA World SUP and Paddleboard Championship Presented by Hotel Kupuri with the Morning Show hosted by Beau Hodge, featuring the lively brothers from Team Barbados Brian and Kevin Talma:
Wednesday, 8:40am Mexico City, Mexico
Wednesday, 6:40am Los Angeles, U.S.A.
Wednesday, 3:40pm Paris, France
Wednesday, 11:40pm Sydney, Australia
Watch the live webcast here – www.ISAWSUPPC.com