Surfers from all six divisions take to the water, visually impaired division debuts at championship
ATTENTION MEDIA: For daily photos, video highlights and video news releases, visit: http://isaworlds.com/adaptive/2016/en/media/
The global Adaptive Surfing community united in La Jolla, California on Friday for the first day of competition at the second annual Stance ISA World Adaptive Surfing Championship presented by Vissla and the City of San Diego.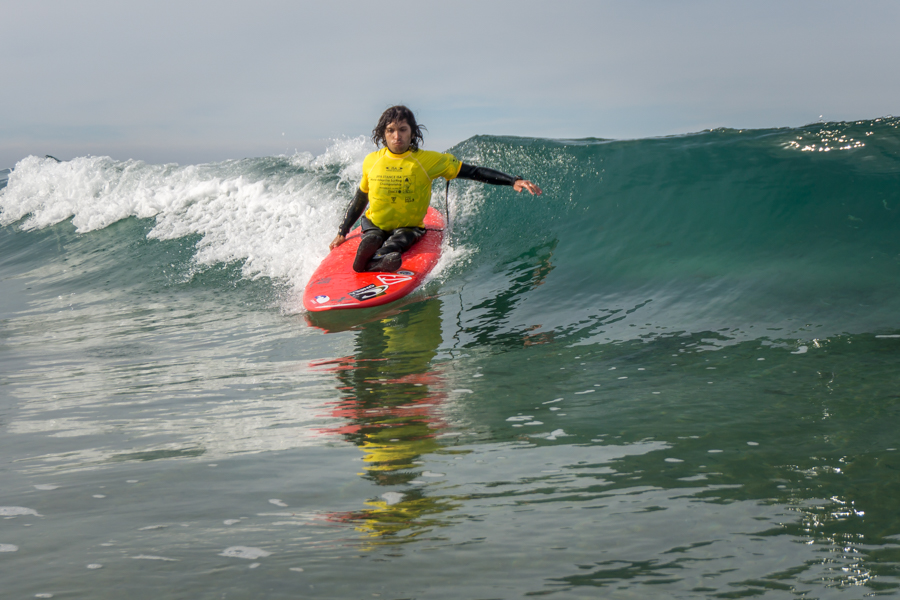 The surfers with physical challenges from all six classification divisions took to the water on a beautiful sunny day at La Jolla Shores Beach with clean 1-3 foot surf. The new visually impaired division also debuted in this ISA World Championship and posted the highest wave score and heat total of the day.
"What an amazing way to kick off the competition," said ISA President Fernando Aguerre. "These surfers from all around the world, from different walks of life and with different challenges, united in competition, showing the world that they are truly world-class athletes."
"Everyone's Gold Medal hopes are still alive, as no one was eliminated today. All of the surfers will get a second chance to surf tomorrow and move into the elimination rounds, one step closer to crowing the historic first-ever first ISA Adaptive Surfing World Team Champion."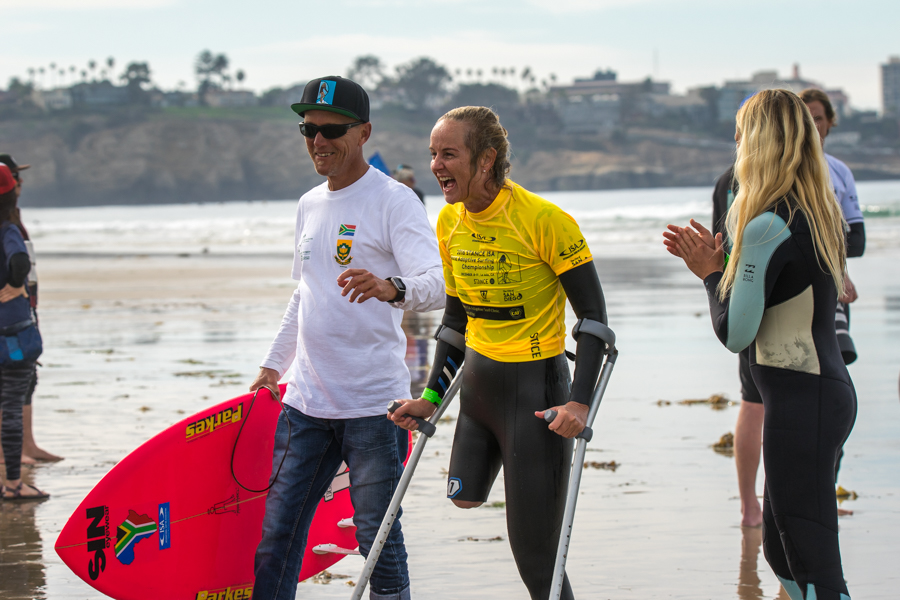 In the opening heat of the visually impaired division, Spain's Aitor Francesena used his feel of the ocean's energy to find running waves with high scoring potential amidst the challenging conditions. Francesena, who was born with congenital glaucoma that caused him to gradually go blind, posted two waves worth 9.43 and 8.73 for a heat total of 18.16. Those marks held up to be the highest heat total and highest single wave total of the day.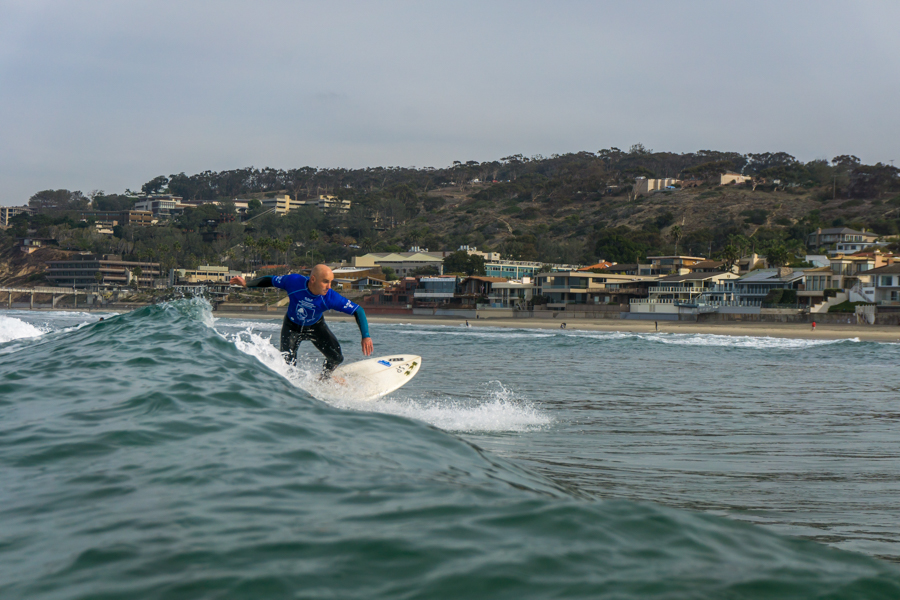 South Africa's Antony Smyth, the 2015 Stand Division Silver Medalist, build on his solid 2015 performance and surfed a heat with two scores in the excellent range (8.77 and 8.33). Smyth's heat total of 17.10 in the AS-1 Division for standing surfers was the second highest of the day out of all the divisions.
Figue Diel, a blind surfer representing his country of Brazil for the first time in the 2016 edition of the event, placed second is his heat this morning and spoke about the pride of surfing in world-class competition.
"It's an honor to represent my country of Brazil," said Diel. "This is an amazing initiative by the ISA that is making dreams come true. It's incredible how everyone is treated as equals here. I've come here to meet other adaptive surfers around the world, but there is also a world title at stake that I am going to give my best for."
USA's Scott Leason, also a blind surfer, met Figue Diel for the first time today and shared his excitement of the growth and development in recent years of Adaptive Surfing.
"My goal is to inspire more visually impaired athletes to try Surfing," Leason explained to Diel. "Last year I competed with the standing surfers, but this year we have a division just for visually impaired competitors. This is a great sign for the development of the sport. I am 60 years old now, but I still want to compete when Surfing gets into the Paralympics, hopefully in 2024."
The AS-1 standing division finished off the day of competition, where 2014 ISA Scholarship winner Gonzalito Torres (PER) took first place in his heat.
"I am so excited to be here competing among the world's best Adaptive Surfers," said Torres. "The ISA Scholarship that I won in 2014 helped me get to the point where I am today. I was able to buy a surfboard and go on surf trips to develop my skills and improve."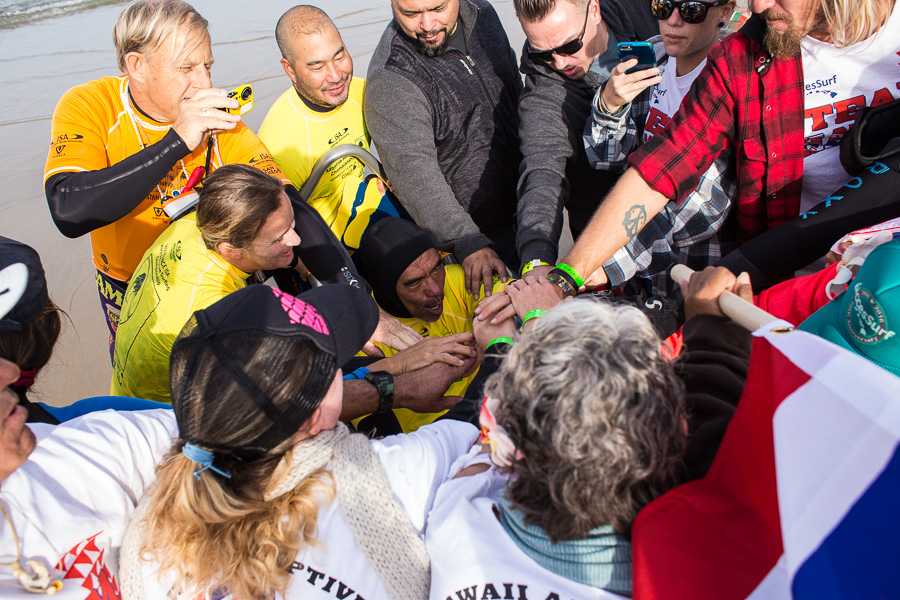 The schedule for the second day of competition is as follows:
7:30am – 9:10am: 5 heats AS-2 (Stand/Kneel) Round 2
9:10am – 11:30am: 7 heats AS-1 (Stand/Kneel) Round 2
11:30am – 12:10pm: 2 heats AS-3 (Upright) Round 2
12:10pm – 12:50pm: 2 heats AS-4 (Prone) Round 2
12:50pm – 1:50pm: 3 elimination heats AS-2 (Stand/Kneel) Quarterfinals
1:50pm – 2:50pm: 3 heats AS-5 (Assist) Round 2
2:50pm – 3:30pm: 2 heats AS-VI (Visually Impaired) Round 2
Schedule is subject to change.
The remainder of the competition window is as follows: 
Saturday, December 10 – Sunday, December 11:
World Championship Competition: 7:30am-3:30pm at La Jolla Shores
All times in Pacific Standard Time.
Catch all the action on the live webcast December 9-11 on www.isaworlds.com.