ISA World Games Forecast 
Updated: Friday morning, September 14th (Local Time)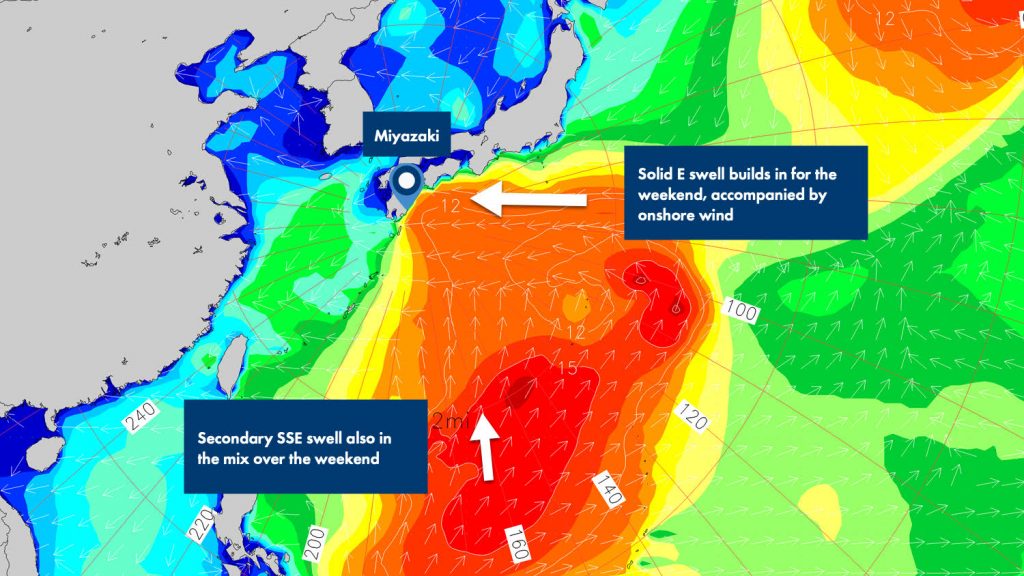 ISA World Games Forecast
Updated: Saturday morning, September 14th (Local Time)
Brief Overview:
Large E swell builds through Saturday before easing gradually on Sunday
Moderate to strong onshore wind expected through the weekend
Sunday late afternoon/evening may see wind gradually ease
Saturday 14th: Bumpy 6-8'+ faces AM builds to 8-12'  faces by the end of the day. Moderate to breezy onshore wind.
Swell/Surf: Primary ENE to E swell builds through the day with well secondary SSE swell also building over the afternoon and mixing in underneath. Solidly overhead surf builds in for the morning with wind blown and bumpy, well overhead to double overhead+ surf expected for the afternoon potentially/likely overwhelming the banks with surf washing through from the outside.
Wind: Onshore ENE flow 12-17 knots through the day.
Sunday 15th: Bumpy 8-10'+ faces AM gradually ease for the PM. Onshore wind continues, possibly easing some in the PM.
Swell/Surf: Primary E swell holds in the morning, easing slightly in the afternoon — but strong all day. Secondary SSE swell mixes in underneath.
Wind: Onshore NE to ENE wind in the morning 12-15 knots may ease slightly for the late afternoon and evening.
Swell/Surf Outlook
Satellite data indicates that the fetch developing from the interaction from broad low pressure east of the Philippines— which looks likely develop into a tropical cyclone in the next 24 hours — and high pressure to the east of northern Japan has been stronger than model guidance during the past 12-18 hours. We are seeing small pockets of wind in the 35-40 knot range around 300 miles from Miyazaki with an elongated fetch of 20-30 knot wind as well. As such, we'll bump surf heights up another notch and they look solid through the weekend.
We expect to see a building trend through the day on Saturday with a peak in size likely Saturday evening and night before very gradually coming down through Sunday (although still strong all day). There is a fairly high likelihood that this swell/surf will overwhelm the banks and the actual surf size competitors ride will be a bit smaller than the above, but with lots of water moving and surf just washing through the line up from the outside.
Steady onshore wind is expected through the weekend, possibly easing some Sunday later afternoon and evening.
Next Update: By Sunday morning, September 15th (local time and if necessary)