Australia hangs onto lead in team standings, France looks for first team Gold
ATTENTION MEDIA: For daily photos, video highlights and video news releases, visit: http://isaworlds.com/sup/2016/en/media/
View full results, team ranking and Final Day schedule here: http://isaworlds.com/sup/2016/pdf/2016_wsuppc_schedule_results_day_7.pdf
Fiji's premiere wave, Cloudbreak, woke up from a slumber and greeted the world's best SUP surfers with a massive swell on the penultimate day of the 2016 Fiji ISA World SUP and Paddleboard Championship.
Hawaii's Zane Schweitzer and Australia's Shakira Westdorp emerged victorious in the well overhead surf and gave their teams a major boost in the team rankings.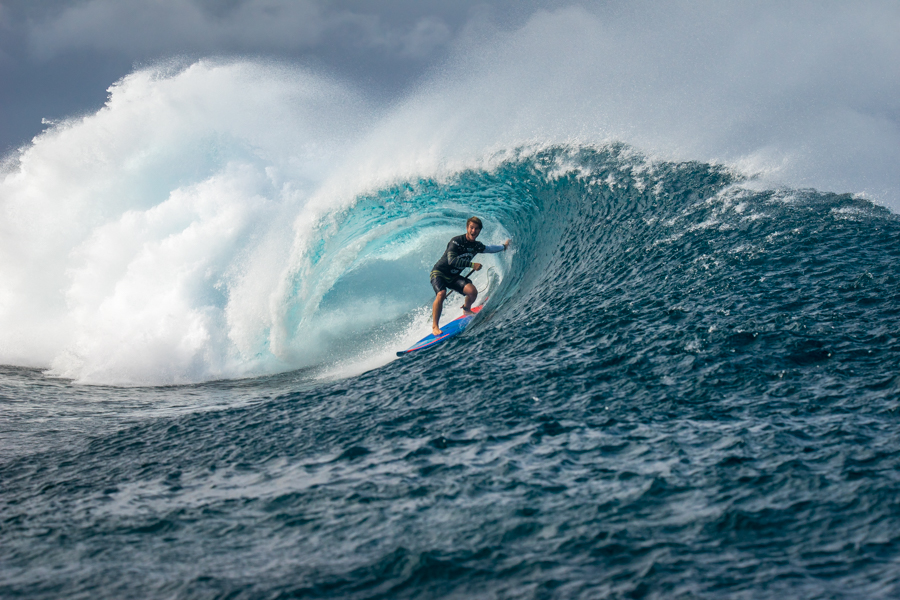 With one day of competition remaining, Team Australia has hung onto their overall lead. Team France is close on their heels, looking to take Gold in the event for the first time in its five-year history.
Hawaii's Schweitzer took the short route to the Gran Final, never falling from the Main Event. Schweitzer arrived to the Final to face off against other world-class SUP surfers, South Africa's Tomas King, USA's Giorgio Gomez and Hawaii's Mo Freitas.
In the dying minutes of the Men's Final, Schweitzer pulled into a gaping barrel, flew out and finished the wave with solid turns all the way to the inside as the boats in the channel erupted in cheers. Schweitzer was awarded with a 9-point ride that propelled him from third to first with 15.70 points and crowned him the new Men's SUP World Champion. Schweitzer's teammate, Mo Freitas, narrowly finished with the Silver Medal earning 15.07 points, USA's Giorgio Gomez (14.77) with the Bronze and South Africa's Tomas King (9.33) with the Copper.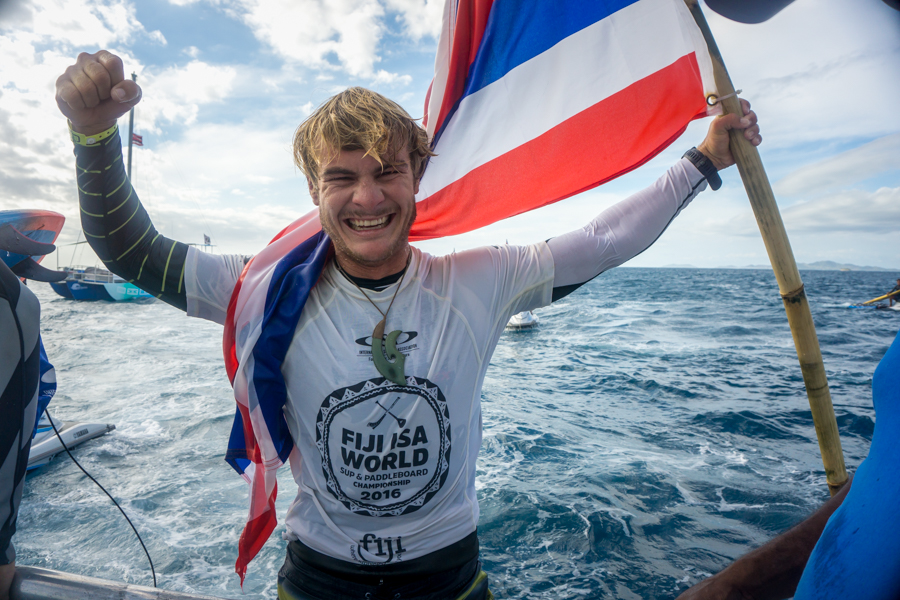 "Mo (Freitas) and I grew up together. We pushed each other to be here," said Schweitzer. "I am so stoked to take Gold and Silver for Team Hawaii. This is a dream come true for us all to be here. Thank you Fernando and the ISA for bringing us to Fiji. It's amazing."
"What we love about this event is that it's not an individual sport, we get to cheer each other on. Having all the passion from all the different nations is amazing."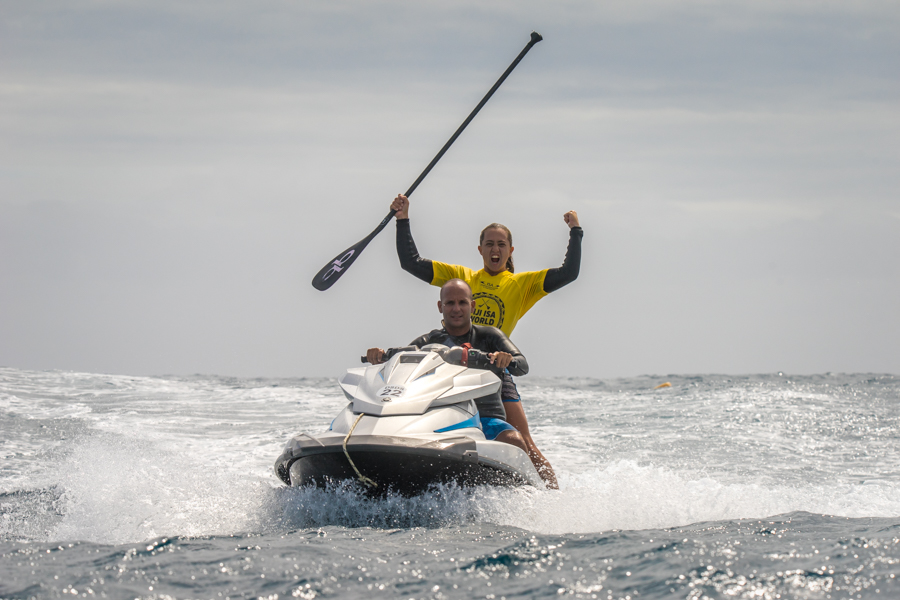 In an equally exciting Women's SUP Surfing Final, Australia's Shakira Westdorp rose to the top of the podium and was crowned World Champion. Westdorp was given a chance to redeem herself after previously making the Final in this event three times (2012-2014) where she was unable to take the Gold. The defending Gold Medalist, USA's Izzi Gomez, put on an admirable Silver Medal performance, riding a few enormous waves over Cloudbreak's shallow reef. Peru's Brissa Malaga earned the Bronze Medal and France's Caroline Angibaud with the Copper.
"It's a dream come true," beamed Westdorp. "This is the fourth time that I came to this event. I've won two Silver Medals and I finally won the Gold so I am so stoked. The waves are pumping too. It's been an epic weekend with team Australia and hopefully we can take home the team Gold Medal."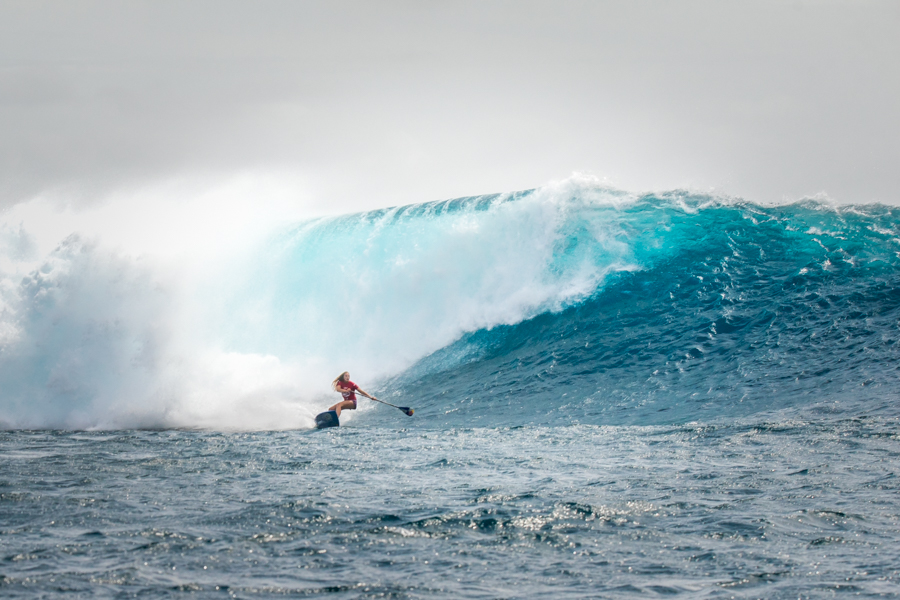 The morning of heavy surf was highlighted by a courageous performance by Canada's 13-year-old Finn Spencer. Spencer, who had defeated his older brother Jeffrey Spencer during Monday's competition, paddled into the surf that was up to three times his height. Finn did not advance, but his impression had already been left on the competition with his inspiring determination.
"I've never surfed waves quite like this," said Spencer. "However, it's great to represent my country and surf against my heroes of the sport."
Japan's 17-year-old SUP surfer, Yuuka Horikoshi provided another inspiring performance. Competing against athletes with many more years of experience, Horikoshi advanced all the way to the Repechage Finals and proved that she can hold her own in large surf. Horikoshi represents the growth and development of the sport of Surfing and SUP in Japan, which is set to host the first Olympic Surfing competition at the Tokyo 2020 Games. While Horikoshi is an accomplished SUP surfer, she also excels at shortboarding and is determined to train for a shot to represent her country when Surfing makes its debut.
ISA President, Fernando Aguerre, said:
"I would like to give a huge congratulation to the Gold Medalists, Shakira Westdorp and Zane Schweitzer, for their impeccable performances. They showed the utmost sportsmanship while rising above the rest and becoming true World Champions in this historic edition of the competition."
"The Gold Medal performances were amazing, but there are so many other inspirational stories in this event when you dig beneath the surface. Young athletes like Canada's Spencer brothers, Japan's Yuuka Horikoshi and USA's Izzi Gomez are a great sign that there is a bright future in the sport. I am looking forward to watching these young athletes continue to push the sport and hopefully one day become Olympic SUP athletes."
To view previous days' webcasts, visit: http://isaworlds.com/sup/2016/en/live/
The Final Day of competition will feature:
November 20: Relay Races, 200m Sprint Race and Closing Ceremony, Port Denarau
Schedule subject to changes.
Tune into the live webcast November 12-20 here: http://isaworlds.com/sup/2016/en/