2017 VISSLA ISA World Junior Surfing Championship set to crown first ISA World Champions in Japan in 27 years
ATTENTION MEDIA:
For daily photos, video highlights, and video news releases, click here.
To view team standings, full results, and heat sheets, click here.
In a dramatic Final, home nation Japan earned the first Gold Medals of the 2017 VISSLA ISA World Junior Surfing Championship on Saturday in the Aloha Cup, the ISA's one-of-a-kind mixed-gender relay event.
In a closely fought battle with France, Hawaii, and Costa Rica, Japan's young team emerged victorious after displaying excellent Surfing and a heroic sprint to the beach to beat the buzzer.
Japan, France, and Hawaii, the defending ISA Aloha Cup Gold Medalist, went blow for blow trading off high-scoring waves. As time was winding down, Team Japan had Joh Azuchi, their anchor leg of the relay in the water, needing to arrive back to the team box before time expired to avoid a 5-point penalty. Azuchi quickly scored two waves in the 7-point range and sprinted back to the beach, managing to dive across the finish line just as time expired.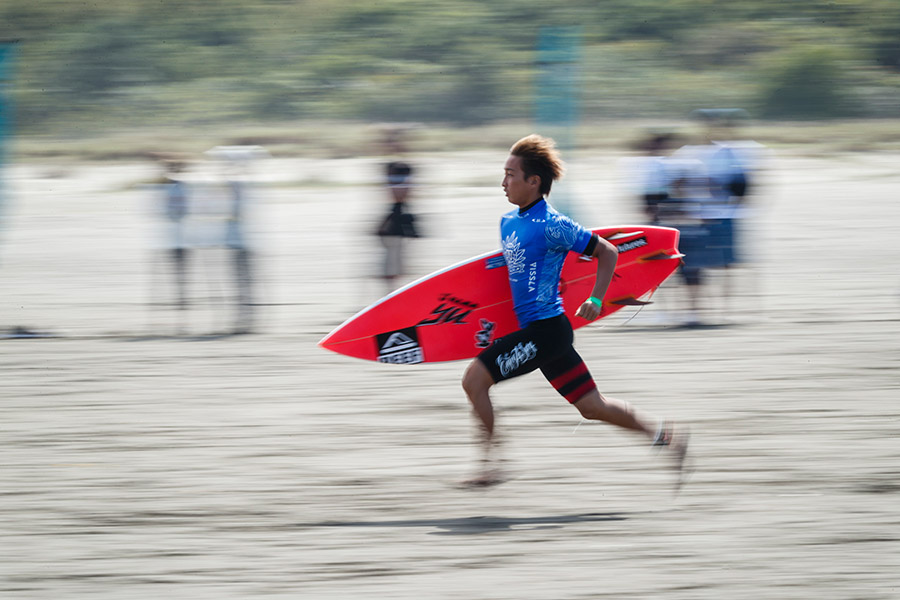 When the final scores registered, the local crowd erupted in cheers as Team Japan had won the Gold by a margin of 6 points.
I want to thank everyone here supporting us," said Japan's Team Captain, Yuji Nishi. "We have a really strong team that works well together, and it showed with our Gold Medal here today."
Following Team Japan were Hawaii with the Silver, France with the Bronze, and Costa Rica with the Copper.
On Sunday the Grand Finals are set to take place, with four individual and Team Gold Medalists to be crowned, the first since the ISA World Surfing Games were held in the country in 1990.
Team USA currently holds a marginal lead in the overall team rankings, intent on repeating their 2015 performance when they earned their first-ever Team Gold Medal in Oceanside, California.
Hawaii has put themselves in contention after jumping from fifth to second in the team rankings during Friday's competition. Trailing USA by only 160 points, Hawaii is still in the mix for the Team Gold Medal and will be looking to capitalize on any mistakes by Team USA in the Repechage and Grand Finals on Sunday.
The host nation Japan currently sits in third position, trailing by 1,187 points. Japan made history by earning the Copper Medal, their first in the history of the event, at the 2016 edition of the event in the Azores.
Sitting closely behind Japan in fourth place is the defending Gold Medalist Team France.
ISA President, Fernando Aguerre, said:
"Huge congrats to Team Japan for their Gold medal in the Aloha Cup world championship today!
"Eight days of emotion, team camaraderie, sweat, and tears are coming to an end. We are ready to crown the first World Champions in Japan since the 1990 ISA World Surfing Games.
"What we have seen this week has been nothing short of incredible. The level of Surfing we have witnessed surely will lead to these surfers becoming the future stars of the sport."
The event will be streamed live on www.isaworlds.com September 23 – October 1.
The schedule for Saturday's competition is as follows*:
Podium 1
9:00am – Event Director to assess conditions and make call
Girls U-16 Repechage Final
Boys U-16 Repechage Final
Girls U-18 Repechage Final
Boys U-18 Repechage Final
Girls U-16 Grand Final
Boys U-18 Grand Final
Girls U-18 Grand Final
Boys U-18 Grand Final
*All times in Japan Standard Time, UTC +9:00.
The remaining event schedule will be as follows:
October 1: Competition followed by Closing Ceremony, Okuragahama Beach
The view the official Surfline forecast, click here.
ISA Aloha Cup Results:
Gold – Japan
Silver – Hawaii
Bronze – France
Copper – Costa Rica